Breast Massage: What Is It and How Does it Work?
Massaging your breasts is a simple concept: it involves direct stimulation of the mammary tissue beneath the skin of your breasts. Giving yourself daily breast massages can confer a wealth of health benefits that go beyond increasing your bust size.
For starters, physical massage is great for stimulating blood flow; this is just as true for the chest as it is for any other part of your body. Breast massages enhance the circulation of blood through your chest, stimulating the various tissues which make up the breast and increasing the rate at which they receive oxygen and nutrients. Breast massages encourage the body's natural tissue generation processes, which in turn encourages breast growth.
Breast massage doesn't just stimulate blood flow; it also encourages other fluids to move through the breast tissue, expelling toxins and dead cells that become trapped within the breast. These toxins can stunt breast growth, preventing you from reaching your body's potential. In addition, studies have shown that breast massages are a great way to reduce the frequency of cysts, breast tenderness, and the development of scar tissue (from surgery) or stretch marks (from natural breast growth). It should also go without saying that regular massages can help women identify unusual lumps in breast tissue.
How Do I Perform a Daily Breast Massage?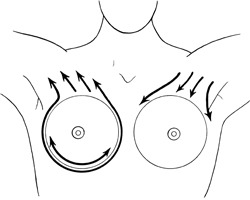 There are several different methods of breast massage which can be performed in the privacy of your own home. In addition, professional massage therapists can perform a breast massage on you and give you valuable advice for continuing the regimen at home.
One popular treatment is to massage the breasts in a circular motion, starting from the outer areas of the chest and rubbing inward. Some therapists suggest performing anywhere from 100-300 circular motions per day, effectively producing a 15 minute massage.
A more complex method of massage involves a multi-step process. First, lie on your back in a comfortable position. Use your palms to exert a comfortable amount of pressure on the underside of the breast, working your hand across the underside several times. Next, work your way up the side of your breast, still using your palms to apply gently pressure to the tissue. Continue applying pressure as you work upwards to the area just above the nipple. Finally, finish the massage with a breast lifting exercise. Slowly massage your breasts upward from the bottom to the top, gently lifting the breast as you go.
No matter which routine you decide on, make sure you incorporate a good lotion or massage oil into your daily massage. This can help reduce painful friction and ensure that the skin around your breasts remains supple and elastic, instead of becoming stretched out or sagging.
Will Regular Breast Massages Make My Breasts Grow Bigger?
The answer to this question can depend on many different factors. However, most medical professionals agree that  physically stimulating the breast tissue through massage, and enhancing local blood flow may help encourage breast growth.
If you want to boost your results, you might want to skip the generic massage oil and use a breast enhancement cream or gel instead. These natural, herbal remedies deliver powerful tissue-stimulating ingredients directly to your breasts, which will enhance the effectiveness of the massage. Many breast enlargement cream manufacturers also make pills that are designed to compliment the creams, which will boost your results even further.
We've reviewed and ranked the top pills and creams on the market today. To figure out which natural breast enhancement cream for you, take a look at our Product Comparison Chart!