Max Enhance Natural Breast Enhancement Cream
Max Enhance Breast Enhancement Cream is a breast enhancement product that allows you to increase your breast size without resorting to invasive methods such as surgery. Aside from increasing bust size, it is also designed to improve the skin around the breast area. With this kind of advantage, you can attain beauty without resorting to painful and expensive procedures.
Max Enhance Benefits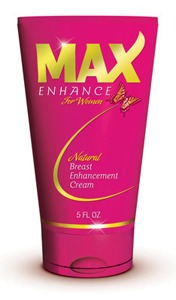 Firms and tones breasts
Increases bust size
Easy to use
Results in weeks
Max Enhance Ingredients
Pueraria Mirifica Extract
Pueraria Mirifica Extract contains phytoestrogens, a plant-derived estrogen, which effectively stimulate the body in the same way that human-produced estrogen does. The phytoestrogens found in Pueraria Mirifica Extract stimulate the production of breast tissue to increase bust size.
Sweet Almond Oil
Sweet Almond Oil has various benefits that encompass not just the breast area but the skin as a whole as well. Almonds are rich in fatty acids and are therefore great for soothing and massaging skin. The vitamin E in Sweet Almond Oil aids in neutralizing free radicals in the skin, thereby resulting in a younger, firmer appearance. Some people use Sweet Almond as a treatment for breast cancer, although there is not sufficient evidence to prove its efficacy in this manner.
Full Ingredient List: Water (Aqua), Pueraria Mirifica Root Extract, Prunus Amygdalus Dulcis (Sweet Almond) Oil, Glycerol Sterate, Glycerine, Caprylic/Capric Triglyceride, Cetyl Alcohol, Sodium Stearyl Lactylate, Dimethicone, Beeswax (Cera Alba), Diazolidinyl Urea, Methylparaben, Propylparaben, Propylene Glycol, Helianthus Annuus (Sunflower Seed) Oil, Fragrance (Perfum), Tocopherol, Tetrasodium EDTA, Butyrospermum Parkii (Shea Butter), Retinyl Palmitate, Allantoin and Citric Acid.
How To Use Max Enhance Cream
Individuals who are allergic to almonds should not use Max Enhance. In addition, Max Enhance contains several known skin irritants, including parabens and Dimethicone. If irritation occurs, discontinue use immediately and consult with your doctor. Max Enhance is not intended for individuals under the age of 18 or women who are pregnant or nursing.
To use, apply a small amount of Max Enhance to your hands. Using a circular motion, massage the cream into your breast for 3 to 5 minutes or until it is completely absorbed. Focus your massaging on the outer and bottom regions of the breast and take care to avoid the nipple.
In Depth Review
Max Enhance Breast Enhancement Cream is improvement targeted topical breast enhancement product that firms and tones breasts and increases cup size. Max Enhance utilizes phytoestrogens to stimulate breast tissue development and vitamin E to promote healthier, larger, perkier breasts.  Unlike other breast enhancement solutions, Max Enhance is non-invasive and provides gradual results over time so the boost in bust size looks and feels natural.
One thing to keep in mind is that Max Enhance does not contain a lot of phytoestrogens. The majority of the ingredients are skin soothers that are common to numerous skin care products. Max Enhance focuses more on firming and toning your breast, rather than stimulating tissue development to increase breast size overall.
Looking for a breast enhancement supplement that targets development, rather than toning? Check out our breast enhancement product reviews to find the breast enhancement product that is right for you.