Naturaful Natural Breast Enlargement Cream
Naturaful is a natural breast enhancement cream which helps increase breast size safely and effectively. Naturaful firms and tones sagging breasts and increases cup size for total breast enhancement. Naturaful's powerful herbal formula provides significant breast enhancement without the need for surgery.
Naturaful Benefits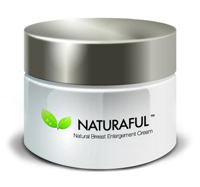 Larger, firmer breasts in weeks
Increase breasts by 2 cup sizes
Regulates hormones levels
No weight gain or side effects
Naturaful Ingredients
Mexican Wild Yam
Herbal preparations of Mexican Wild Yam have been used for a number of hormonal conditions ranging from menstrual cramps to hot flashes that are associated with menopause. Wild Yam contains precursors to progesterone, as well as other phytochemicals which stimulate breast enlargement.
Blessed Thistle
Blessed Thistle contains phytoestrogens, plant-based estrogen compounds that work by regulating hormones and promoting tissue growth. Phytoestrogens stimulate estrogen-related activities in the body, including breast growth.
Dong Quai
Also known as Chinese Angelica, Dong Quai is used in traditional Chinese medicine to treat symptoms of menopause, PMS and other hormonal issues. The phytosterols in Dong Quai
Kava Kava
Kava Kava is a native plant found around the Pacific. Kava Kava Root is commonly used to calm anxiety, stress, restlessness, and sleep problems. Some studies suggest that Kava Kava may increase levels of prolactin, one of the hormones responsible for breast milk production.
Full Ingredient List: Water, Glycerol Mono Sterate, Glucam E-20, Sabal, Damiana, Dong Quai, Blessed Thistle, Kava Kava, Dandelion Root, Oat Fiber, Wild Yam, Motherwort, Safflower Oil, Cetyl, Alcohol, Acetulan, Silicone, Sodium Laurel Sulfate, Fragrance, Methyl Paraben, Propyl Paraben, Polysorbate 80, and DMDM Hydantoin.
How To Use Naturaful
Naturaful Cream contains kava kava root, which can be toxic to the liver over time. Naturaful also contains phytoestrogens and phytosterols, which affect hormone levels, as well as several known skin irritants. Individuals with hormonal issue are advised to consult with their doctor prior to use. Individuals with sensitive skin are advised to conduct a patch test prior to use. Individuals who are under 18 or women who are pregnant or nursing should not use Naturaful Cream.
To use, massage a small amount of Naturaful cream into the breast. Apply Naturaful twice a day, preferably in the morning and at again night.  Naturaful works best immediately after a shower when your pores are open, making it easier to absorb the ingredients.
In Depth Review
Naturaful is a natural breast enlargement cream that aims to improve the overall look and feel of your breasts. Naturaful's natural formula contains powerful herbs, including Mexican Wild Yam and Blessed Thistle, which work with your body to increase bust size. The phytoestrogens and phytosterols found in Naturaful are believed to stimulate breast tissue development. Naturaful claims to regulate hormone levels, firm and tone, and enlarge breasts up to three cup sizes in weeks, all without side effects or weight gain.
However, there are concerns with some of the ingredients. Continued use of Kava Kava has been linked to increased hepatotoxicity and liver damage, especially when used in conjunction with alcohol or medication. Naturaful also contains Sodium Laurel Sulfate and two types of parabens, which are known skin irritants.
Looking for a safe, natural breast enhancement cream without all the concerns? Check out our breast enhancement product reviews to find the breast enhancement solution that is right for you.