"Gummy Bear" Breast Implants
Cohesive silicone gel breast implants- better known as "gummy bear" implants – are one of the largest breakthroughs in cosmetic surgery since silicone breast implants were introduced some decades back. Since being approved by the FDA in 2012, they have generated plenty of buzz in the medical and mainstream communities alike. Some experts have predicted that they will completely revolutionize the breast implant industry by making breast implants a much more appealing option for those who were previously concerned about safety and unnatural looks. But what do gummy bear implants really bring to the table?
The silicone implants used today are basically unchanged from the fifth-generation silicone implants that were originally introduced in the mid-1990's. These implants are made from a semi-solid gel inside of a plastic shell that served to eliminate many of the leakage issues that plagued earlier implants, which were made out of liquid. However, these implants are certainly far from perfect.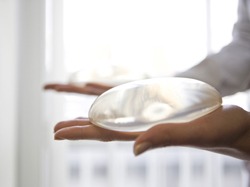 They come in one standard shape and can't be molded to fit the unique shape of a woman's breast. And while they reduced the rate of implant rupture, they don't eliminate the terrible effects that rupture causes. These ruptures happen about 1 percent of the time, which doesn't sound like much, but imagine- if 1% of the band-aids in the world could lead to extremely adverse health issues, then would you use band aids? These are the same risks that people take by getting silicone breast implants.
Does "Newer" Equate with "Better?"
"Gummy Bear" breast implants are different, though, and their uniqueness is what may potentially revolutionize breast implants. Instead of being made from a gel which can leak, they're made out of a cohesive gel which is form-stable. This means that when cut in half, gummy bear implants can actually keep their shape like a gummy bear candy. This drastically reduces the risk of leakage-related complications. In addition, these implants can be easily formed to the unique shape of each woman's breasts, which is a definite positive for those who are concerned about the unnatural look of surgically enhanced breasts. In addition, "gummy bears" also look, feel, and move more like natural breasts. Many patients who have cohesive gel implants have reported that their partners have no idea that they had breast implants.
Prior to 2012, the only way to get gummy bear implants was to participate in clinical trials. In March 2012, the FDA approved Sientra's Silicone Gel Breast Implants for regular consumer use after years of testing. It is worth noting that neither the manufacturer nor the FDA condone the use of the term "gummy bear" in conjunction with these implants, although some critics say that such a name diminishes the seriousness of implants and the surgical process as a whole.
Unfounded Popularity
More and more women are seeking out this new  breakthrough in implant design, thinking that it can improve the feel and texture of their breasts better than the commonly available implants of today. Since it is the latest innovation in the field of breast enhancement surgery, many people think that it is an improvement over other types of implants. However, this may not always be the case as numerous assumptions abound regarding its relative safety and reliability.
If you are considering these implants, it would be wise to assess their pros and cons, especially since new innovations almost always pose a hidden risk that might have been overlooked. For one, these implants may feel less natural given the fact that they are considerably firmer than a natural breast. "Gummy bear" implants also require larger incisions since these implants are not easy to mold and, thus, they may be difficult to fit through small incision lines. This is why it is of the utmost importance that women review all of their available options before chasing after the newest development.
Alternatives to Gummy Bear Implants
From these accounts we can conclude that the safest and least expensive option for breast enhancement is still natural breast enhancement pills or creams. As an established and proven alternative to cosmetic surgery, natural breast enhancement has produced effective results that last without breaking the bank. Moreover, the natural benefits these pills and creams provide are a step ahead of invasive surgeries with lengthy recovery times and significant expense.
To get started, you may want to see our product comparison chart and see for yourself how different the natural way is. For larger and firmer breasts that don't require spending a ton or invasive measures, consider natural breast enhancement pills or creams and you'll be amazed by the results.