Total Curve Lifting & Firming Gel
Total Curve Lifting & Firming Gel is one of the newest natural breast enhancement products on the market. Like many other natural breast enhancement products, Total Curve lifts and firms your breasts and increases cup size for total breast enhancement. What sets this product apart from other topical breast enhancement solutions is one of its ingredients: Volufiline. No other product on the market today contains this ingredient. Total Curve backs up its claims with a clinical trial, further setting them apart.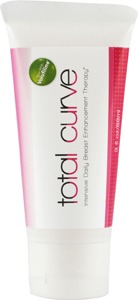 Total Curve Gel Benefits
Non-invasive natural breast enhancement
Results in 60 days
Contains exclusive ingredients
Clinically tested formula
Total Curve Gel Ingredients
Volufiline
Volufiline is a patented ingredient that can only be found in Total Curve Gel. Although Leading Edge, the producer of Total Curve, is careful to guard what makes up this proprietary compound, we do know that it contains sarsasapogenin. Sarsasapogenin is a naturally occurring steroid derived from sarsaparilla root which increases fat tissue storage within the breast. Volufiline has been clinically proven to increase fat accumulation within the breast.
Vitamin C
Vitamin C helps the body produce collagen, which is an essential part of skin's structure. Strong collagen bonds are responsible for the youthful perkiness of breasts. In addition, Vitamin C is an antioxidant and can protect against skin damage caused by free radicals.
Algae Extract
Algae are rich in skin-nourishing minerals. Algae extract helps to firm and nourish skin, making breasts look more healthy and youthful.
Full Ingredient List: Purified water, Volufiline, Aloe Vera Extract, Bearberry Extract, Algae Extract, Mango Butter, Vitamin C, Caffeine, Propylene Glycol, Carbomer, Triethanolamine, Vegetable Glycerin, Hydroxyethylcellulose, Methylparaben, STR Multi-Peptide Complex, Natural and Artificial Flavors and Preservatives.
How To Use Total Curve Gel
Individuals with allergies or sensitive skin are advised to conduct a patch test prior to use, to reduce the chance of an adverse reaction.
Use Total Curve Lifting & Firming Gel twice a day. Apply a thin layer of gel to your breasts and gently massage until fully absorbed.
In Depth Review
Total Curve is one of the newest natural breast enhancement systems on the market. The Total Curve system aims to lift, firm and increase the size of your breasts to enhance your bust line. Total Curve Lifting & Firming Gel contains a balanced blend of breast-enhancing and skin smoothing ingredients for total breast enhancement. Total Curve contains one of the newest breast enhancement ingredients available, Volufiline. This gives Total Curve users the edge when it comes to scientific know-how, but is also problematic since there is not much long-term research.
The ingredient in question is called Volufiline. Volufiline is a sarsasapogenin-based compound which causes growth in fat cells. A clinical study conducted by the manufacturer of Total Curve found that Volufiline can increase breast tissue volume by up to 8.4%. Unfortunately, these numbers have not been verified by independent clinical testing. Total Curve Gel also contains caffeine. Caffeine has anti-inflammatory properties and helps increase blood circulation, but it can also dehydrate the area under the skin, causing a decrease in breast volume. In addition, all of the documented results for Total Curve come from using the complete system. It is difficult to find any documentation on how well the gel increases breast size on its own.
Overall, Total Curve Lifting & Firming Gel is a great product, but it does not have years of results to help back up its efficacy. If you are unsure whether Total Curve is right for you, then be sure to check out our breast enhancement product reviews. We've reviewed and ranked the top products on the market to help you find the one that is right for you.