What Are PushUp Wonder Bras?
Unless you've been living under a rock since the early 1990's, you probably already know the answer to this question. However, it is important to note the differences between push-up bras in general and the major name brands of push-up bras.
The Wonderbra, which most women have probably heard of, is a name-brand form of the push-up bra which is almost immediately recognized by most consumers (sort of like how most shoppers think of "'Band-Aids"' or "'Jell-O"' before they think of "'adhesive bandages"' or "'gelatin"', respectively). It came on the scene in 1994 and became one of the biggest money-making products of the year with over $120 million in global sales.
Due to the success of the Wonderbra, other undergarment manufacturers soon came out of the woodwork with their own unique designs for breast-boosting and cleavage-enhancing brassieres. In some cases, the push-up bra is sold more often and takes up more space in the average woman's underwear drawer than sports bras or "'full-coverage"' bras, which are designed for comfort.
Push-up bras come in many forms: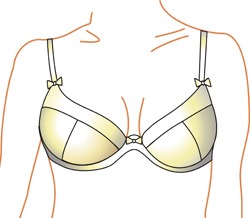 Padded bras, which are great for enhancing bust size in general and offering some cleavage improvement
Plunge bras, which extend the length of cleavage and are great for when worn in conjunction with dresses and low-cut tops
Water, liquid, or gel bras, which often have cups filled with some sort of substance designed to increase bust size by centering and lifting the breasts, which increases the amount of cleavage on display
What Exactly Does a Push-Up Bra Actually Do?
Push-up bras are designed to lift and compress your breasts, making them appear larger and more attractive than they normally are. Believe it or not, it wasn't until the Wonderbra entered the market that much of mainstream society began seeing bras as a sexy way for women to flaunt what they had; before that time, bras were used primarily to support the breast.
The push-up bra works to enhance your bust in two ways: first, it utilizes foam, liquid, or air padding hidden seamlessly within the cup to create the illusion of an increased cup size.. Many push-up bras also design their straps and underwire such that the breasts are brought closer together, making cleavage appear deeper and, in some cases, elongating the cleavage line.
Why Choose a Push-Up Bra?
If you want to enhance the appearance of your bust line, a push-up bra might be an attractive option for you. It is relatively low-cost, which is a plus, and it's as easy to wear as any other piece of clothing. It is non-invasive and pain-free, unlike plastic surgery or suction-cup devices, which are designed to swell and stretch the breasts.
However, these bust-enhancing results are temporary. Once you take off the bra, the gravity-defying effects are gone and you're back to only what Mother Nature gave you. It is also worth mentioning that several studies have observed that wearing a bra which isn't properly fitted to your unique form can cause increased sagging over time, which is the opposite of what you would want!
The best solution to this problem is to look into natural breast enhancement products. These products are much cheaper than surgical enhancement and present none of the inherent health risks that surgery entails. You'll probably spend the same amount on a properly-fitted push-up bra anyway; the only difference is that with natural breast enhancement, your results are permanent.
So, what do you have to lose?
For more information on natural methods of breast enhancement, check out our breast enhancement product reviews, which provides tons of advice on the best available products and more!