Perfect Woman Breast Enlargement Formula
Perfect Woman Breast Cream is a natural topical breast enhancement solution. Perfect Woman mimics the breast growth that women experiencing during pregnancy to provide permanent gains in breast size.
Perfect Woman Benefits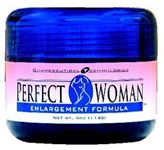 Larger, firmer breasts in weeks
Safe, natural breast enhancement
No side effects or weight gain
Natural look and feel
Perfect Woman Ingredients
Wild Yam
Wild yam is rich in saponins, a type of hormonal precursor that is converted into progesterone. Progesterone is a key hormone for improving breast size and texture. As an added benefit, wild yam can also be used to treat PMS, menstrual cramps and other hormonal difficulties in women.
Dong Quai
Dong Quai plays a key role in Chinese traditional medicine as a remedy for reproductive issues. Commonly used for irregular menstrual periods, Dong Quai is rich in phytochemicals and can help to regulate hormone levels. This helps to stimulate breast tissue development.
Fennel
Fennel is used the world over, both for medicinal purposes and for culinary use. In addition to improving digestion, Fennel also is rich in phytoestrogens, which stimulate breast tissue development. Fennel also functions as a galactagogue, stimulating milk production to improve breastfeeding.
Full Ingredient List: Water, Octyl Palmitate, Glyceryl Stearate, Cetearyl Alcohol, PEG-100 Stearate, Caprylic/Capric Triglyceride, Dimethicone, Saw Palmetto Extract, Dong Quai Extract, Dandelion Extract, Blessed Thistle Extract, Kava Kava Extract, Pueraria Mirifica, Wild Yam Extract, Mother's Wart Extract, Fenugreek Extract, Black Cohosh Extract, Fennel Extract, Cumin Extract, Myristyl Myristate, Glycerin, Triethanolamine, Carbomer, Methylparaben, and Phenoxyethanol.
How To Use Perfect Woman
While the breast enhancing ingredients in Perfect Woman Breast Cream are completely natural, many of the fillers and preservatives are not. Perfect Woman contains Methylparaben and Dimethicone, two known skin irritants. It is recommended that you conduct a patch test prior to use, especially if you have sensitive skin. In addition, the phytoestrogens in Perfect Woman can cause issues for women with hormonal imbalances. Perfect Woman is not intended to be used by individuals under the age of 18 or women who are pregnant or nursing.
To use, apply a half teaspoon of Perfect Woman Breast Cream to the breast. Use a circular motion to gently massage in the cream until it is completely absorbed. Use Perfect Woman once daily.
In Depth Review
Perfect Woman Breast Cream offers a larger bust size in weeks. Perfect Woman is a natural breast enhancement cream which mimics the increases in breast size that accompany pregnancy. Perfect Woman's gentle formula contains several types of phytoestrogens to stimulate the estrogen receptors within the body to encourage breast tissue development. Unlike breast enhancement pills that have to pass through the digest tract first, Perfect Woman delivers the dose of breast enhancement herbs directly to the breast tissues.
However, some of the components used in this topical delivery system are known skin irritants and can create issues for women with sensitive skin. There are also some concerns with the effectiveness of some of the ingredients, since it is unclear how they are broken down within the body and whether they can be properly utilized in this manner.
Looking for a safe, natural breast enhancement cream without all the concerns? Check out our breast enhancement product reviews to find the breast enhancement solution that is right for you.