Breast Enhancement Pills – Total Curve
Total Curve Breast Enhancement Pills are designed to increase the size and shape of your breasts naturally. Total Curve contains a potent blend of phytoestrogens to balance hormone levels and stimulate breast development.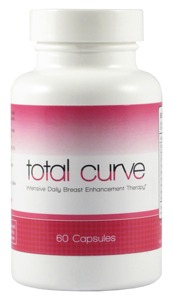 Total Curve Pills Benefits
Lift and firm breasts
Increase breast size
Non-invasive breast enhancement
Gentle herbal formula
Total Curve Pills Ingredients
Wild Yam
Wild yam contains saponins, a type of hormonal precursor that assists in enlarging breast size. In addition, wild yam is also frequently promoted as a natural alternative to estrogen therapy for treating PMS, weak bones and menstrual cramps in women.
Black Cohosh
A potent dietary supplement, Black Cohosh is commonly used for treatment of hot flashes and other menopausal symptoms. Believed to have estrogen-like properties, Black Cohosh stimulates the  reproductive system to enhance the size and form of a woman's breasts.
Fennel Seed
Fennel Seed is rich in phytoestrogens. This form of plant-based estrogen helps balance hormone levels to promote breast tissue development, improve breast milk supply and alleviate symptoms of PMS.
Full Ingredient List: Buckwheat Leaves/Flowers, Fennel Seed, Dong Quai Root, Damiana Leaf, Blessed Thistle, Hops, Watercress Leaves/Shoots, Black Cohosh Root, Wild Yam Root, Gelatin, Magnesium Stearate, Silicon Dioxide
How To Use Total Curve Pills
Total Curve contains phytoestrogens to help balance hormone levels. Women with hormonal imbalances are advised to consult with their doctor prior to use. Total Curve is not intended for women who are pregnant or nursing or individuals under the age of 18.
To use Total Curve, take one capsule twice a day. For maximum benefit, use in conjunction with Total Curve Gel.
In Depth Review
Total Curve Pills helps women get the curves they've long desired without surgery. Total Curve contains a blend of powerful phytoestrogens to regulate hormone levels and stimulate safe, natural breast growth. While many other breast enhancement supplements focus solely on increasing cup size, Total Curve lifts and firms the breasts to undo hormonal or age-related sagging, giving you a perky looking bust line. Total Curve even helps with symptoms of PMS and menopause.
The Breast Enhancement Pills are one half of the complete Total Curve Breast Enhancement System. Many women find that combining the pills with the Total Curve Gel provides the more impressive increases in bust size.
If you are unsure if Total Curve is the right breast enlargement solution for you, check out our breast enhancement product reviews.